Participating in clinical trials can provide numerous benefits to those who take part. A clinical trial allows you to access new treatments that may not be available on the market yet and obtain medical care from leading specialists. The research team conducts medical research during a trial.
Depending on the trial, participants may have access to free medical exams, clinical procedures, and medications that would otherwise be out of reach in conventional clinical practice.
Six Reasons to Participate in a Clinical Trial:
Access to innovative treatments. Clinical trials offer access to medicines that have not been approved and are not yet available on the market. This advantage allows you to participate in cutting-edge clinical research, potentially expanding your treatment options. Trials often provide clinical resources that are unavailable in traditional clinical practice.
Expert medical care. Clinical trial participants receive medical care from professional experts and the research team who specialize in the condition being studied.
Free medical exams and clinical procedures. You may receive free medical exams and procedures depending on the trial. Many see this as a benefit since it can help save money on healthcare while ensuring they access the best hands-on care. Participants without health insurance have the opportunity to take part. Many trials do not require out-of-pocket expenses, eliminating the financial burden that may come with medical attention outside a clinical trial setting.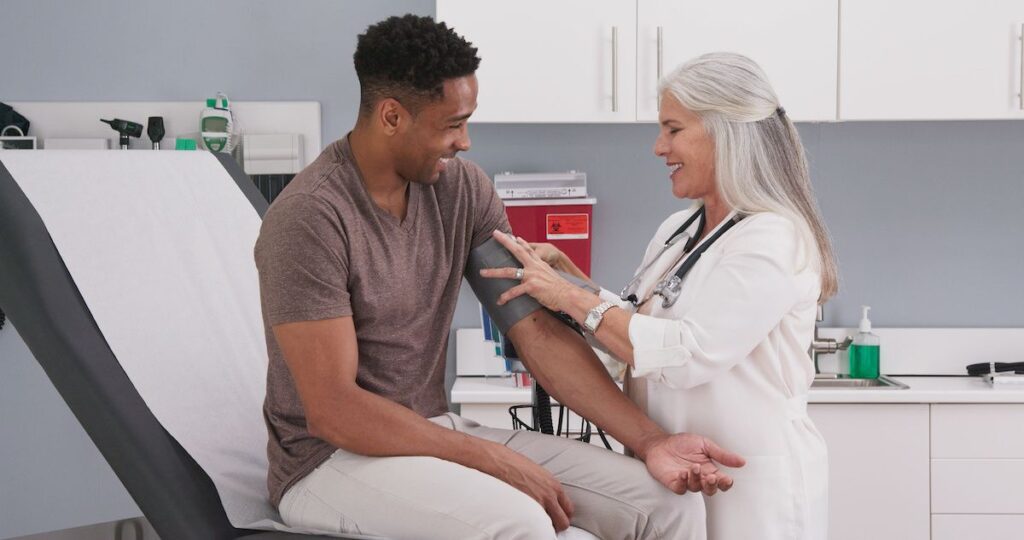 Potential financial compensation. You can be eligible for monetary compensation depending on the nature of the study and the time required to participate. You don't have to worry about getting access to clinical care due to financial constraints because the costs are covered in a trial.
Taking a more active role in your own health care. Enrolling in clinical trials encourages you to take a more proactive stance in your healthcare, which is sometimes neglected and set aside for more urgent life matters.
Contribute to scientific knowledge. Participating in a clinical trial helps advance scientific knowledge and shines a light on breakthroughs that could benefit others. Thanks to your involvement, the medical field can further understand conditions and treatments, which could ultimately lead to better healthcare outcomes for you and your community.
Overall, clinical trials offer a unique opportunity so you can gain access to groundbreaking, experimental treatment from experts. Participation in clinical trials can help improve healthcare outcomes for everyone by contributing to the advancement of scientific discoveries. If you are considering participating in a clinical trial, be sure to speak with your medical care provider before enrolling to discuss any possible risks.
The Process Behind A Clinical Trial
A clinical trial is divided into several parts or "phases" that guide clinical research by the principal investigator. The Institutional Review Board must approve every clinical practice in the United States before analysis can begin.
Phase 1 study test featuresan experimental drug to find the maximum dosage that can be given without producing severe side effects. The portion focuses on the side effects rather than how the medication affects a participant's condition.
Phase 2 study involves a larger group of participants, typically in the hundreds. The researchers are interested in learning the potential risks, side effects, and how the drug can help the studied condition.
Phase 3 study concerns studying a new prescription and standard medicine to determine whether the new product helps with the tested condition.
In a double-blinded study, neither the patient nor their doctor knows which treatment the patient receives. This is done to eliminate any potential biases the doctor or patient might have.
The South Florida Clinical Research Institute's Clinical Trials
Currently, we are hosting multiple clinical studies:
ELARIS- Endometriosis.
SERENE- Endometriosis and Uterine Fibroids.
THE SURMOUNT – MMO (Obesity trial). This focuses on obesity and the effects of Tirzepatide on the reduction of morbidity and mortality in adults living with obesity.
SURPASS- EARLY (Type 2 Diabetes trial). Initiation of therapy early, Tirzepatide compared to Conventional Care.
ATTAIN-2-(Obesity or Overweight with Type 2 diabetes)-
Efficacy and safety of oral GLP-1 for patients with Type 2 diabetes that are obese.
ACHIEVE 3- (Type 2 Diabetes and Obesity)- Oral GLP-1 compared to Semaglutide oral.
The SERENE Study
This study provides doctors with more significant insight into an investigational drug that prevents pregnancy in women with uterine fibroids and endometriosis. Uterine fibroids are noncancerous growths of the uterus. In contrast, endometriosis occurs when tissue similar to the uterus lining grows on the walls of the abdominal and pelvic cavities, ovaries, bowel, and other organs in the pelvis.
The results from this study will help women and their doctors make informed decisions about contraceptive (birth control) methods.
The ELARIS Study
In this study, researchers will evaluate the safety and effectiveness of an oral investigational medication when taken with an oral contraceptive in premenopausal women with moderate-to-severe endometriosis pain. The combined oral contraceptive, containing both estrogen and progesterone, has been approved by the U.S. Food and Drug Administration (FDA) as a method of contraception. The investigational drug has been FDA-approved for moderate-to-severe pain associated with endometriosis.
However, the investigational medication is not currently approved for use with a combined oral contraceptive. Therefore, this study will determine whether using the investigational drug and the oral contraceptive together is safe and effective.
Participants for both trials will be compensated for their time and effort, and clinical trial care is provided at no cost.
Our team of medical researchers and other health professionals is hard at work exploring ways to improve the lives of those living with certain conditions. We actively recruit for clinical trials in multiple areas, including oncology, diabetes, and cardiovascular disease. Please get in touch with us today if you or someone you know may be interested in our clinical trials. We look forward to hearing from you!